Annoucements
Event Postponement Notice Putrajaya International Hot Air Balloon Fiesta

---
Public
6 - 22 Mar 2020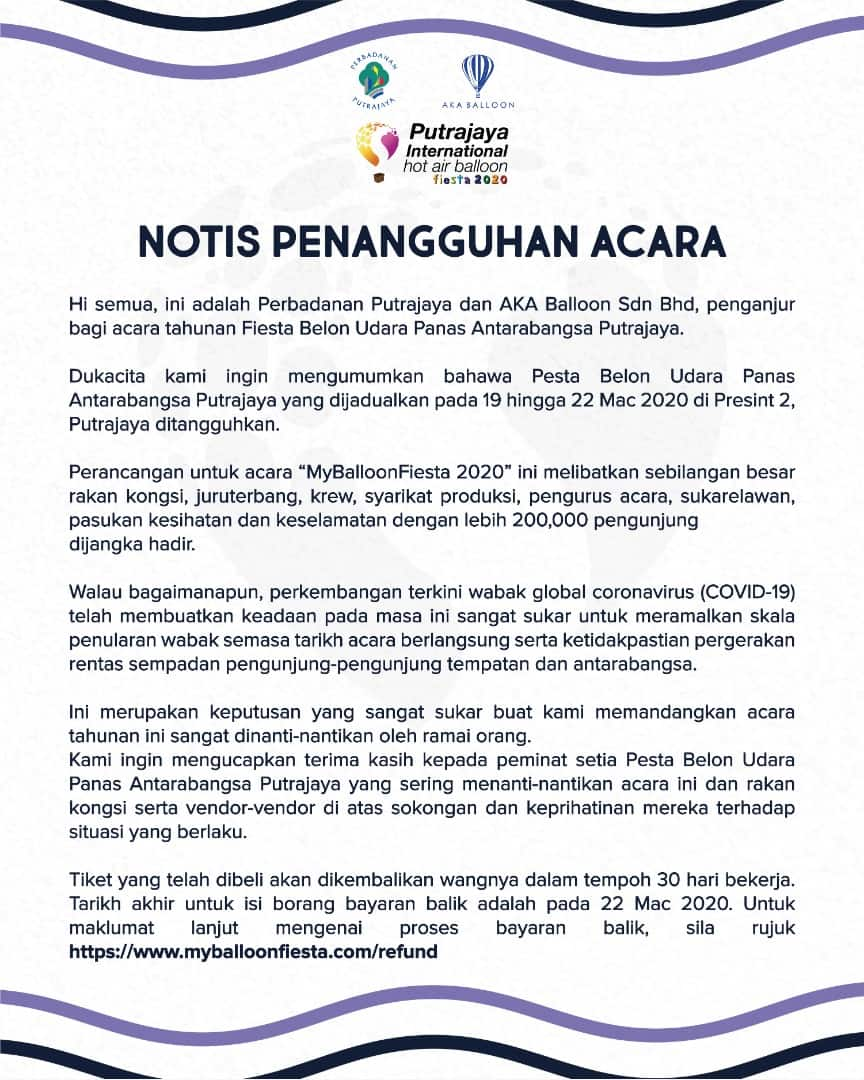 EVENT POSTPONEMENT NOTICE
Hi Everyone, this is Perbadanan Putrajaya & AKA Balloon Sdn Bhd, the event organizers for the annual Putrajaya International Hot Air Balloon Fiesta.
We regret to announce that the Putrajaya International Hot Air Balloon Fiesta, originally scheduled to be held on March 19 to March 22, 2020 at Precinct 2, Putrajaya; has been postponed.
Plans for the "MyBalloonFiesta 2020" event included the involvement of a large number of partners and their team members; pilots and their crew members; production and event companies, volunteers, health and safety officials and their teams; with over 200,000 visitors expected to attend.
However, the current global coronavirus (COVID-19) outbreak has made it impossible at this time to predict the scale of the outbreak during the planned dates of the event, alongside increasing uncertainty about the cross-border movement of both local and foreign visitors.
This was a difficult decision for us to make as this is an annual event that is looked forward to by many.
We would like to thank all our Fiesta followers who had eagerly been looking forward to the Hot Air Balloon Fiesta, as well as our event partners and suppliers, for their understanding.
Tickets purchased will be refunded within 30 working days. The last day to submit your refund is on 22nd March 2020. For more information on the refund process, please refer https://www.myballoonfiesta.com/refund