Events & Activities
Junior Reading Competition in conjunction with the Opening Day of the Putrajaya Learning Center (PPK) 2019

---
19 Oct 2019
Ruang Legar, Kompleks Kejiranan Presint 16, Putrajaya
2:00 PM - 5:30 PM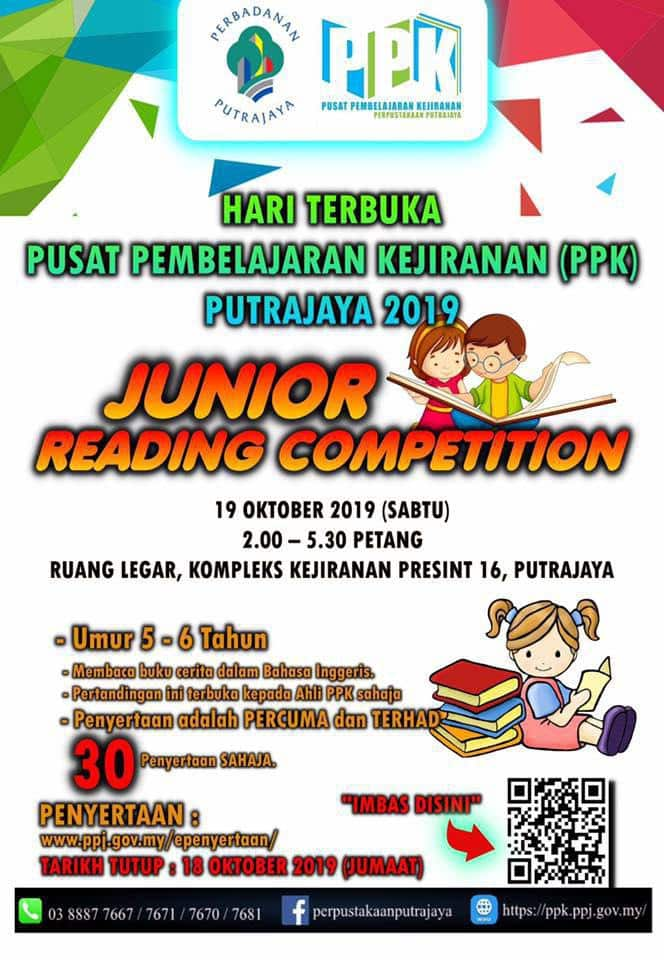 TERMS AND CONDITIONS: -
Open to 5 - 6 Years
Participation is FREE and is limited to 30 participants
Read story books in English (Story Text provided by PPK Secretariat
Time is given 5 minutes for each contestant
The competition is open to PPK Members only
Registration / renewal of PPK membership MUST be due on or before OCTOBER 18, 2019 (Friday). Participant skills must be active until the day of the match.
Participants are not allowed to get help from other individuals during the competition and in the event of participant cancellation can be canceled.
The decision of the Jury panel is final. Any objection will not be entertained.
Entry deadline is OCTOBER 18, 2019 (FRIDAY) / by the quota limit of participation (whichever is earlier).