Events & Activities
Coloring Competition in conjunction with the Opening Day of the Putrajaya Neighborhood Learning Center (PPK) 2019

---
20 Oct 2019
Dewan Utama, Kompleks Kejiranan Presint 16, Putrajaya
9:00 AM - 1:00 PM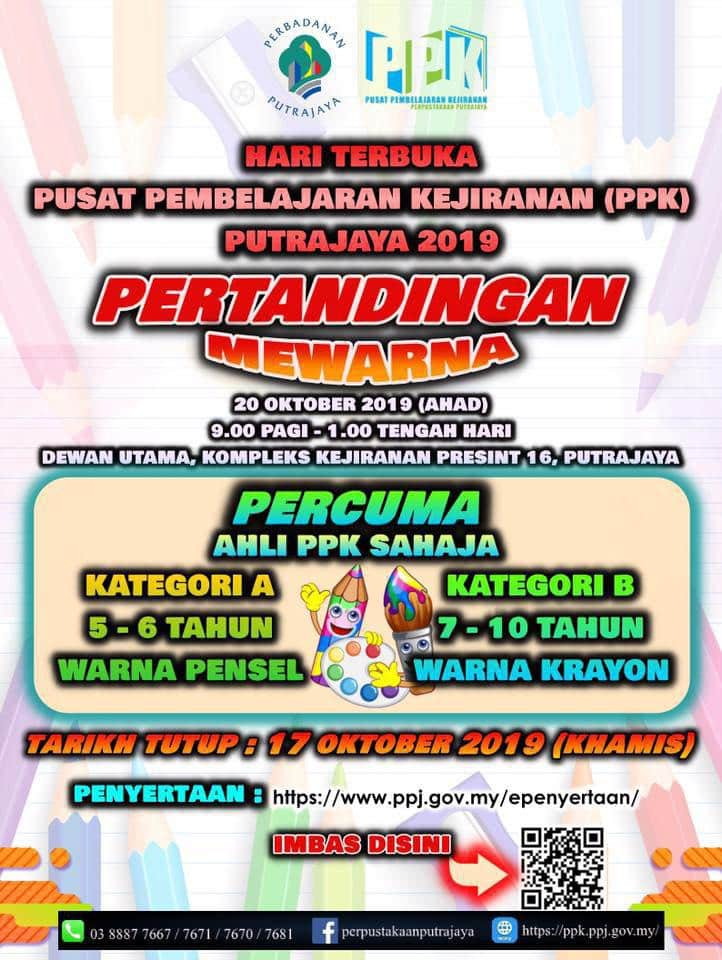 TERMS AND CONDITIONS:
Open to 2 categories:
Category A: 5 - 6 Years - 130 participants (Coloring with Pencil Color) WATERCOLOUR FILTER NOT ALLOWED
Category B: 7 - 10 Years - 120 participants (Coloring using Krayon Color)
The competition is open to PPK Members only
Membership registration and membership renewals MUST be due on or before OCTOBER 17, 2019 (Thursday). Participants must be active until the day of the match.
Entry is FREE.
The contest time is 1 hour and 15 minutes.
Coloring equipment should be carried by the participants themselves.
Drawing of participants will be the property of Putrajaya Corporation.
Participants are not allowed to get help from other individuals during the competition and in the event of participant cancellation can be canceled.
The panel's decision is final. Any questions and objections will not be entertained.
Entry deadline is OCTOBER 17, 2019 (SPECIAL) / by the quota limit of participation (whichever is earlier).